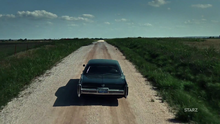 Several modes of Transportation are used throughout the novel as Shadow travels across America.
Throughout the first season, Mr. Wednesday's mode of transportation is Betty, a 1966 Cadillac Fleetwood Brougham. The vertically stacked headlights that were not slanted forward a little bit were only available in 1965-1966, and the tail lights are different between those two model years. The Fleetwood's back windows have two pieces of glass, whereas the Sedan DeVille of the same year has only one, and the landau top was exclusive to the Brougham.
Chevy Nova
Edit
When Shadow first arrives in Lakeside in Chapter Nine, he meets Hinzelmann who gives him a ride in his 1920s Wendt Phoenix roadster.
Winnebago
Edit
In Chapter Twelve, Shadow and Wednesday use a Winnebago to travel from Wisconsin to South Dakota. They take a detour Backstage to get rid of the Spooks who are after them before meeting up with Whiskey Jack and John Chapman. Whiskey Jack trades his nephew's (Harry Bluejay) '81 Buick for their Winnebago and they return back to Lakeside after dropping John Chapman off in Sioux Falls.
Notes and Trivia
Edit
References
Edit
Ad blocker interference detected!
Wikia is a free-to-use site that makes money from advertising. We have a modified experience for viewers using ad blockers

Wikia is not accessible if you've made further modifications. Remove the custom ad blocker rule(s) and the page will load as expected.